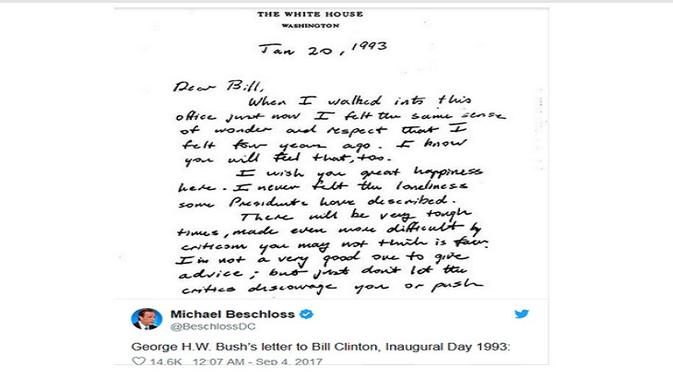 Isi surat George HW Bush untuk Bill Clinton berbunyi:
Dear Bill,
When I walked into this office just now I felt the same sense of wonder and respect that I felt four years ago. I know you will feel that, too.
I wish you great happiness here. I never felt the loneliness some Presidents have described.
There will be very tough times, made even more difficult by criticism you may not think is fair. I'm not a very good one to give advice; but just don't let the critics discourage you or push you off course.
You will be our President when you read this note. I wish you well. I wish your family well.
Your success now is our country's success. I am rooting hard for you.
Good luck—
George
(Untuk Bill,
Saya baru saja masuk ke kantor ini, dan saya merasakan sensasi ingin tahu dan hormat yang sama seperti yang saya rasakan empat tahun lalu. Saya tahu Anda akan merasakan itu juga.
Saya berharap Anda sangat bahagia di sini. Saya tidak pernah merasakan kesepian yang digambarkan beberapa presiden.
Akan ada masa-masa yang sangat sulit, bahkan lebih sulit dengan adanya kritik yang mungkin Anda anggap tidak adil. Saya bukan orang yang tepat untuk memberi nasihat, tetapi jangan biarkan kritik itu membuat Anda putus asa atau tertekan.
Saat Anda membaca surat ini tentunya Anda telah resmi menjadi Presiden kami. Saya doakan yang terbaik bagi Anda. Saya juga doakan yang terbaik bagi keluarga Anda.
Keberhasilan Anda sekarang adalah keberhasilan negara kami. Saya dukung Anda sepenuhnya.
Semoga sukses —
George)
Dilansir dari Huffington Post, surat itu pada awalnya diunggah pertama kali di media sosial pada September 2017 melalui akun Twitter Michael Beschloss. Ia adalah penulis buku PRESIDENTS OF WAR (Crown).
Surat untuk Bill Clinton ini kembali menjadi perbincangan warganet setelah kematian George HW Bush. Bush Senior meninggal pada Jumat, 30 November 2018 pada usia 94 tahun.