Berdasarkan data Kementerian Keuangan, anggaran Kementerian Pertahanan berada di urutan dua setelah pelayanan umum (menurut fungsi), yakni sebesar Rp 107, 5 miliar pada tahun 2018.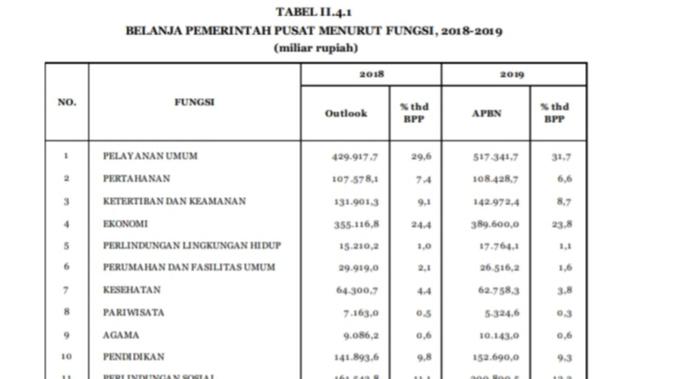 Bagaimana dengan anggaran pertahanan Singapura?
Seperti dikutip dari Straits Times, Pemerintah Singapura menganggarkan dana sekitar 30 persen untuk pertahanan, keamanan, dan diplomasi. 
About 30 per cent of the Government's total expenditure this year is being set aside to support defence, security and diplomacy efforts, which is "a significant but indispensable spending", said Finance Minister Heng Swee Keat.

As he outlined plans in these areas in his Budget speech on Monday (Feb 18), Mr Heng said the Government will invest more, if the need arises, to protect Singapore's sovereignty and Singaporeans' well-being.

He said: "Everyone has a role to play to keep Singapore safe and secure. Let us continue to stay united in defending our home and way of life."

Defence and security issues took up a greater focus of this year's Budget compared to previous years, with Mr Heng speaking on them at the start of his speech.

Noting that a safe and secure Singapore will "give us the confidence to chart an independent course", he said Singapore cannot take its peace, prosperity and stability for granted, as it remains vulnerable to regional and global fluctuations.

Also, Singapore cannot waver in its commitment to defence and security – with diplomacy and deterrence as twin pillars of its approach – against an increasingly uncertain geopolitical environment.

Besides building good relations with neighbouring countries and major powers through the Ministry of Foreign Affairs (MFA), Mr Heng also noted how the Singapore Armed Forces (SAF) lends weight to diplomatic efforts and ensures that negotiations with Singapore are taken seriously.

Should diplomacy fail, we must stand ready to safeguard our interests, and defend ourselves," said Mr Heng, adding that Home Team agencies as well as the Cyber Security Agency of Singapore also ensure a safe environment and secure cyberspace for all.

He said the SAF remains a bulwark against threats to Singapore's way of life, as security threats are evolving and becoming more complex, even though Singapore is one of the world's safest cities with consistently low crime rates.

Mr Heng cited how the threat of terrorism remains high, with Singapore continuing to detect individuals here who have been radicalised as it sees a global rise in attacks globally by radicalised individuals and cells.

In addition, the threat of malicious cyber activities is also growing, and enhanced connectivity can be exploited to disrupt and divide society through cyber attacks, as well as the spread of falsehoods and other means, Mr Heng said.
[embedded content]
Menurut sbr.com.sg, anggaran belanja bidang pertahanan, keamanan, dan diplomasii pada 2019 ini adalah yang tertinggi dalam kurun waktu 12 tahun. Sebagai perbandingan, pada 2018, anggaran yang dipatok sebesar 18,5 persen.
Liputan6.com merupakan media terverifikasi Jaringan Periksa Fakta Internasional atau International Fact Checking Network (IFCN) bersama 49 media massa lainnya di seluruh dunia.
Kami juga bekerjasama dengan 21 media nasional dan lokal dalam cekfakta.com untuk memverifikasi berbagai informasi hoax yang tersebar di masyarakat.
Jika anda memiliki informasi seputar hoax yang ingin kami telusuri dan verifikasi, silahkan menyampaikan kepada tim CEK FAKTA Liputan6.com di email cekfakta.liputan6@kly.id.